Lyrics by
Lorenz Hart
Music by
Richard Rodgers
Produced by The Roundabout Theatre Company
Book by George Abbott; New book by Nicky Silver; Based on "The Comedy Of Errors" by William Shakespeare;
Directed by Scott Ellis
Choreoghraphy Rob Ashford
Starring: Lee Wilkof (Dromio of Syracuse) Chip Zien (Dromio of Ephesus) Jeffrey Broadhurst (Angelo) Walter Charles (Aegon) Toni diBuono (Luce) Erin Dilly (Luciana) Jonathan Dokuchitz (Antipholus of Syracuse) Tom Hewitt (Antipholus of Ephesus) Lauren Mitchell (Adriana)
It ran for 73 perf. + 29 previews
Scenic Design by Thomas Lynch
Costume Design by Martin Pakledinaz
Reviews:
No Sobs, No Sorrows, No Sighs

The boys from the Rat Pack would no doubt have appreciated the girls in The Boys From Syracuse. A bouquet of long-stemmed courtesans are on conspicuous display in the languid reworking of the Rodgers and Hart classic that opened last night at the American Airlines Theater.
That this gam-flashing chorus's value as a ring-a-ding-ding diversion is fully appreciated is signalled by its being given plenty of stage time. It has even been allotted two numbers (including "You Took Advantage Of Me") interpolated from other Rodgers and Hart shows. Dancing with clean-cut suggestiveness in pseudo-classical costumes, the courtesans bring to mind not so much ancient Greece, where the musical takes place, as the later Roman revels at Caesar's Palace.
The mathematics have a loopy logic that is unique to show business. In having a thoroughly contemporary dramatist (Nicky Silver) update a 1938 musical inspired by a 16th-century farce (Shakespeare's The Comedy Of Errors) from the work of a Roman playwright (Plautus) of roughly 2,300 years ago, the creators of this Roundabout Theater Company production have somehow landed in Las Vegas in the mid-1960's.
But don't expect rowdy hedonism from Scott Ellis's revival. Although a gleeful concert production from the Encores! series in 1997 suggested there was still plenty of life left in Boys, this latest incarnation exudes a listlessness that feels all too appropriate to the energy-sapping days of late summer in the city.
No such inertia, by most accounts, characterized the original staging of Boys, which had a book by George Abbott, its director, and choreography by George Balanchine. Writing in The New York Times, Brooks Atkinson said, "Someone will have to call out the fire department to dampen down the classical ardors of this hilarious tale."
Abbott used Shakespeare's story of the comic complications afforded by two sets of identical twins as a showcase for ribaldry and clowning from, among others, the beloved comedian Jimmy Savo. Sandwiched within the burlesque were some of Rodgers and Hart's most enchanting ballads ("This Can't Be Love," "Falling In Love With Love," "The Shortest Day Of The Year") and raciest novelty numbers "He And She," "Sing For Your Supper").
These are smoothly sung, for the most part, in the current production. And there are certainly less appealing ways to escape the heat than to listen to them in the coolness of a dark theater. Yet there's little musical zest in the interpretation. Unlike the dancing courtesans, led by the television star Jackée Harry as their Madam and choreographed by Rob Ashford, the show's stars tend to plant themselves downstage and deliver their solos like singing trees.
In between, the performers swap a battery of barbs devised by Mr. Silver, a specialist in neurotic comedy (Raised in Captivity, The Food Chain). Antipholus of Syracuse (Jonathan Dokuchitz), the man who comes to Ephesus in search of his long-lost brother, now has phobias about heights and insects, while his twin, Antipholus of Ephesus (Tom Hewitt, late of The Rocky Horror Show) is an insecure braggart who visits prostitutes only to talk.
The sibling rivalry between the show's love interests, Adriana (Lauren Mitchell) and Luciana (Erin Dilly), has been scaled into Clare Booth Luce-style sniping. And Dromio of Syracuse (Lee Wilkof), servant to Antipholous, has been given a bizarre encounter with a swishy tailor's apprentice (Kirk McDonald) that casts doubt on the sexual proclivities of the other Dromio (Chip Zien), who is married to the lusty Luce (Toni DiBuono).
No one's heart or libido really seems to be in the ensuing erotic confusions, which occur amid sets (by Thomas Lynch) and costumes (by Martin Pakledinaz) that vaguely recall the gladiator movies of the mid-20th century. The invaluable Mr. Wilkof (late of Kiss Me, Kate) and Ms. DiBuono bring a certain bite to "He And She," a droll portrait of a marriage. There was also, at least in the performance I saw, a surprise guest appearance by a popular vintage sitcom star toward the end.
Mr. Silver has provided a couple of sequences in which the ensemble members deliver rapid-fire one-liners in the manner of the old Laugh-In series. Hence you have Ephesian citizens exchanging rimshot comments in anticipation of a public execution in the language of jaded theatergoers. ("Not another stinking revival," one man exclaims, hearing of a previous execution that his friend said he thought he might have seen before.)
The lines are at best mildly funny, but they would definitely be funnier if there were more verve in the speaking of them. There's a persistent feeling in this Boysthat the good citizens of Ephesus would much rather be at the beach.
The Boys From Syracuse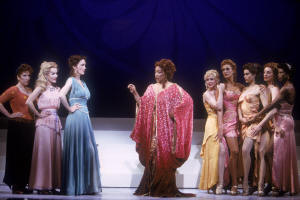 Jackee Harry (center) in a scene from The Boys From Syracuse
(Photo © Joan Marcus)
In this centennial year of the birth of Richard Rodgers, it's swell that the Roundabout Theatre Company has elected to revive
The Boys from Syracuse
. Although aspects of this production, directed by Scott Ellis, are indifferent at best, the score exemplifies the breezy, glorious work that Rodgers did with his first collaborator, Lorenz Hart. Broadway's got
Oklahoma!
(and
Flower Drum Song
on the way) to represent Rodgers' better-known later period, when he wrote musical plays with Oscar Hammerstein II. Now, for a few months, we've got one of the best of the Rodgers and Hart musical comedies brassily, giddily singing in our ear on 42nd Street.
For The Boys from Syracuse — at least as presented here — is ALL about the songs. For starters, there's one of Rodgers' most luscious waltzes, "Falling In Love With Love," set to a wry but heartfelt lyric:
Caring too much is such a juvenile fancy
Learning to trust is just for children at school
Then there's the Act One capper, "This Can't Be Love," a zesty, upbeat, swinging tune undercut by Hart's ironic sentiment:
This can't be love because I feel so well
No sobs, no sorrows, no sighs
Maybe you're familiar with the show-stopping "Sing For Your Supper," or the lilting love song "You Have Cast Your Shadow On The Sea." I certainly didn't know the rousing "Dear Old Syracuse," a sincere yet tongue-in-cheek ode to a town in Greece and also to a more contemporary place in upstate New York — a Rodgers and Hart specialty; or "He And She," a comic list song about immortal pairings and what became of them; or "Oh, Diogenes" in which three neglected women concur with the ancient's finding that there's no such thing as an honest man; or "Come With Me," a buoyantly silly invitation to prison, sung by a sergeant and his corps of policemen.
The thing is, there's not a dud in the bunch: this is the young Richard Rodgers at his bountiful melodic best, and Larry Hart's wizardry with clever rhyme is at the top of its form as well. The score, all by itself, makes a visit to The Boys from Syracuse an enjoyable one.
The book, adapted by Nicky Silver from George Abbott's 1938 original, is less satisfying, however. The Boys from Syracuse is a very free-wheeling musicalization of Shakespeare's The Comedy Of Errors, retaining the basic plot elements about twin Antipholuses and twin Dromios separated at birth who are suddenly all together and at large on a fateful day in Ephesus. The main love story revolves around Antipholus of Syracuse and his twin brother's sister-in-law, Luciana. The main comic relief comes from the two Dromios and the wife of one of them, the sassy maid Luce. Silver's libretto provides a firm but rather visible backbone for the proceedings, and introduces some campy jokes, but provides few opportunities for the cast to really delight us the way they do when they're singing. Indeed, the book, and Scott Ellis' direction, share a listlessness that deprives the non-sung parts of the show of the joyous jolts of exuberance that the score is so full of.
Casting, too, is problematic: Tom Hewitt (Antipholus of Ephesus), Jonathan Dokuchitz (Antipholus of Syracuse), and Lauren Mitchell (Adriana) simply come across as too old for the brash, naive characters they're called upon to play; of the principals, only Erin Dilly (Luciana) really seems to be on the same wavelength as the show's creators. Chip Zien and Lee Wilkof fare better as the twin Dromios, and Toni Dibuono scores as loud, lusty Luce, especially in her duet with Zien, "What Can You Do With A Man?" Best of all is Jackee Harry as the Courtesan, who puts over her gags with real verve and gets the plum assignment of delivering "Sing For Your Supper," bringing a smile to our faces at the show's climax.
Martin Pakledinaz has designed gorgeous diaphanous gowns for the ladies but strangely unflattering garments for the men. The sets (Thomas Lynch) and lighting (Donald Holder) are serviceable. Rob Ashford's choreography feels a little peremptory too, perhaps because his chorus (five men and five women) is a little smaller than might be desirable. But Don Sebesky's orchestrations are terrific; it's grand to hear these great Rodgers tunes in a Broadway theatre (David Loud is at the baton).
An article in the program quotes a reviewer of the original Boys from Syracuse proclaiming this the greatest musical comedy of its time. That may or may not be true; Syracuse certainly doesn't feel especially legendary in this incarnation. But its songs are immortal. Here's a good opportunity to hear them in their natural setting.

The Boys From Syracuse
Roundabout Theatre Company has given Richard Rodgers and Lorenz Hart's 1938 musical comedy hit,
The Boys from Syracuse,
a revival that's respectful and respectable, but not very exciting. The show is based on Shakespeare's
The Comedy Of Errors,
a tale of two pairs of identical twins in ancient Greece, each separated in infancy and now as adults finding themselves unknowingly in the same town. As mistaken identities mount, it should be a springboard for madcap farce. But the production, under Scott Ellis' formulaic direction, rarely rises to the kind of inspired lunacy the proceedings seem to call for.
Nicky Silver has updated the original book by George Abbot, a legendary Broadway master of the genre, with some contemporary-tinged laugh lines, and the cast is loaded with talent, but for the most part it lacks the outsize farceurs who can take command of this kind of material.
The show, however, does an admirable job in airing the luscious Rodgers and Hart score. Lauren Mitchell, as the cynical wife of a philandering twin, does a lovely "Falling In Love With Love." Under music director David Loud, swingy numbers such as "Sing For Your Supper," as well as big chorus pieces, are handled with precision, giving Hart's incomparably witty lyrics their due. An affecting moment is provided by Chip Zien, as a slave looking for his long-lost twin, with the rarely-heard ode to brotherhood, "Big Brother."
Jonathan Dokuchitz and Erin Dilly make a delightful pair of incipient lovers singing "This Can't Be Love," even though a lackadaisical dance interlude diminishes its appeal. Surprisingly, Rob Ashford's choreography throughout is weak, making one suspect his creative juices were spent on his Tony Award-winning work for Thoroughly Modern Millie. Costumes by Martin Pakledinaz, another Millie Tony winner, are okay, but Thomas Lynch's sets, apparently aiming for sleek classicism, only achieve a look reminiscent of a low-rent 1950s TV variety show.
Ron Cohen - Backstage.com

Broadway's Boys From Syracuse disappoints
NEW YORK, Sept. 20 (UPI) -- The Roundabout Theater Company's Broadway production of Rodgers and Hart's 1938
The Boys from Syracuse
is a split-level new version of the musical that has a weak first act and a stronger second act that saves it from potential disaster.
It is regrettable that this show at the American Airlines Theater isn't as satisfactory as it might have been. It has a new book by playwright Nicky Silver, based on George Abbott's original book, and several songs borrowed from other works by Richard Rodgers and Lorenz Hart, an attractive cast, stylish sets and smashing costumes, and amusing choreography. But these elements fail to coalesce into a hit vehicle until the evening is almost over.
Having a strong second act is always preferable to having a weak one, but the animation that builds as the second act of The Boys from Syracuse progresses comes almost too late to erase the memory of the lethargic mood of the first act, whose broad humor seems less than funny and whose characterizations are of a cardboard variety associated with amateur productions.
Rodgers and Hart went out of their way to burlesque William Shakespeare's The Comedy Of Errors in their original version of a show that has its ultimate roots in a comedy by the Roman playwright, Plautus. They turned the Bard's play into a free-for-all, especially in a tailor's shop scene with many changing-room doors that allow for close-call entrances and exits that are the essence of farce.
Silver hasn't tampered with the show's basic plot about identical twin brothers who are separated when young and are searching for each other accompanied by slaves who also are twins. When Antipholus of Syracuse and his slave Dromio arrive in Ephesus in the hope of finding Antipholus of Ephesus and his slave, also Dromio, all sorts of complications set in as the result of mistaken identities.
While Antipholus of Ephesus - who fancies himself a war hero - spends time away from his beautiful but argumentative wife, Adriana, to socialize at a bordello, Antipholus of Syracuse is mistaken by Adriana for her husband and taken into her house. There the Syracusan meets her equally beautiful spinster sister, Luciana, and falls in love even though he is masquerading as her brother-in-law.
The romantic mix-up is resolved happily in the last scene and the brothers re-united with their father and mother just in time for join the chorus in a final reprise of the show's hit song, "This Can't Be Love." Other familiar songs in the show are the catchy, clever "Sing For Your Supper" fetchingly rendered as a strip tease by a madam and her courtesans, two lovely ballads, "Falling In Love With Love" and "The Shortest Day Of The Year," and the saucy "You Took Advantage Of Me."
Surprisingly effective are less familiar musical numbers, "He And She," a cynical duet about marriage performed by Dromio of Syracuse and his brother's wife, Luce, and "Oh, Diogenes," a trio about the difficulty women have in finding honest men sung by Adriana, Luciana, and Luce.
Jonathan Dokuchitz takes the dominant male role as Antipholus of Syracuse, a handsome but neurotic young man who fears heights, rodents, and insects. He is a wooden actor with a strong but uncultivated tenor who takes most of the evening to warm up. In contrast, Tom Hewitt is off and running from the start with the role of Antipholus of Ephesus, a hopelessly egotistical but insecure macho.
Both Lauren Mitchell and Erin Dilly are lovely visually and vocally as Adriana and Luciana respectively, and Tony DiBuono takes the laurels for acting in the role of the passionate but frustrated Luce. She is at her best when teamed with Lee Wilkof who brings real feeling and a charming wistfulness to the role of Dromio of Syracuse, whereas Chip Zien is only adequate as Dromio of Ephasus.
Fred Inkley, playing a police sergeant, almost stops the show with a quick-step rendition of "Come With Me," a hilariously funny number about the advantages of jail-house living.
Also rising to her one occasion to engage the audience is television star Jackee Harry (Sister, Sister, 227) in a powerhouse rendition of "Sing For Your Supper" late in the evening. Playing the madam in a glitzy gown, Harry is backed up by dazzling courtesans in revealing costumes right out of Ziegfeld Follies and George White's Scandals. Greek they're not, although most of designer Martin Pakledinaz' costumes are derived from class fashions with a nod in the direction of Las Vegas.
Thomas Lynch's minimal sets suggesting walls bearing the Greek anthemion design in contrasting colors and white columns are effective in their stylized simplicity and lovingly lit by lighting designer Donald Holder. Rob Ashford is responsible for choreography that is drolly sexy, and Scott Ellis, fresh from Arthur Miller's The Man Who Had All the Luck, is the director.

Frederick M. Winship - Life & Mind Desk
Discography:
Studio Cast - 1939
Off-Broadway Revival - 1963

Original London Cast - 1963
Studio Cast - 1997