Lyrics by
Lorenz Hart
Music by Richard Rodgers
Produced by Joe Pasternak and Martin Melcher for M.G.M.
Directed by Charles Walters
Starring: Jimmy Durante,
Doris Day and
Martha Raye
Screenplay by Sidney Sheldon
Second Unit Director
Busby Berkeley
Doris Day and her producer husband Martin Melcher tried to bring back the classic MGM musical with
Billy Rose's Jumbo
, a lavish 1962 adaptation of the legendary Broadway spectacle. If they didn't re-create the glorious box-office results of the past, it certainly wasn't for lack of trying -- or achievement. The main problem was that
Billy Rose's Jumbo
was an entertainment from an earlier era and lacked appeal to contemporary audiences. Following the smashing success of
West Side Story
, with its location-shot dance scenes and social commentary, Day's film seemed like a throwback to an era that today is sadly missed.
In 1935, producer Billy Rose was already being publicized as the "Bantam Barnum" when he got the idea for
Jumbo
during a visit to Europe, where he saw two of the continent's famous indoor circuses. With a generous investment from John Hay Whitney, he brought together a team of showbiz experts: director George Abbott, dance director John Murray Anderson, songwriters Richard Rodgers and Lorenz Hart, and playwrights Ben Hecht and Charles MacArthur. They managed to coordinate over a dozen circus acts, more than 1,000 animals, the Paul Whiteman Orchestra and comic Jimmy Durante for an extravaganza about a romance between the son and daughter of rival circus managers. Though it ran for 233 performances, followed by a three-month engagement at the Texas State Fair, the show was too big to turn a profit.
Throughout
Jumbo
's original run, Rose was besieged with claims that the plot had been stolen from a variety of sources, though nobody could make enough of a case to get even a token settlement out of him. When he was negotiating the sale of film rights to MGM, however, Hecht, who was angry at Rose for re-writing his script at the last minute, told studio executives that he had, indeed, borrowed the plot from another play. As a result, MGM dropped its offer from $200,000 to $50,000. Desperate to break even on the show, Rose had to accept. Then the studio sat on the property for almost three decades.
Day, who worked mostly at Warner Brothers and Universal, had had several happy experiences working at MGM when she and her husband Melcher decided to make a big musical there, possibly to compensate for her having lost the lead in the film version of
South Pacific
to Mitzi Gaynor. Like Rose before them, they assembled a team of experts to bring
Billy Rose's Jumbo
to the screen. Director Charles Walters had started as a dancer and choreographer before turning to directing with
Good News
in 1947 and
Easter Parade
the following year. He and Day had teamed previously for
Please Don't Eat the Daisies
. Melcher's co-producer was Joe Pasternak, who had made Deanna Durbin a singing star at Universal in the '30s, before coming to MGM, where he worked with such performers as Judy Garland and Gene Kelly. In addition to producing
Daisies
for Day, he had also produced her biggest dramatic triumph,
Love Me or Leave Me
(1955). To keep the music up to MGM standards, they had associate producer Roger Edens, who had helped shape Garland's singing career and supervised the music on all of producer Arthur Freed's great musicals. And as second unit director in charge of the musical numbers, they got Busby Berkeley to come out of retirement for what would be his last film.
The original
Jumbo
had produced three hit songs: "The Most Beautiful Girl in the World," "Little Girl Blue" and "My Romance." To those and other songs from the original score, Day added another Rodgers and Hart standard, "This Can't Be Love." The numbers were filmed impeccably, with Berkeley staging an impressive array of circus stunts to accompany Day's first song, "Over and Over Again," and Walters making the camera dance with the performers as he had in his earlier films.
Although no singer, leading man Stephen Boyd had scored a hit as Messala, the villain in
Ben-Hur
, and did an impressive job lip-synching to James Joyce's vocals. But the film's cast was dominated by the presence of two seasoned comic performers. To play Day's father, Durante, who played the circus press agent on Broadway, returned to the screen after a ten-year absence. Although the role was different, he got to re-create his most famous line from the original. When he's stopped while trying to steal back the circus' trademark pachyderm and asked, "What are you doing with that elephant," Durante deadpans, "What elephant?"
To play Durante's lovelorn girlfriend, Martha Raye returned to the screen after a 15-year absence during which she had become a top television star. The circus routines gave Raye a chance to show off her still shapely legs, while she also shared a lyrical duet with Day that reminded fans she was one of the best singers in the business. Raye was so thrilled with the role that she re-located to the West Coast, hoping her part would lead to other film offers.
Unfortunately for all concerned,
Billy Rose's Jumbo
was far from a giant at the box office. MGM gave it a big buildup, complete with an opening engagement at the Radio City Music Hall, but fans and critics were unimpressed. Only Raye, Durante and the elephant got decent reviews. It took the Vietnam War and her tireless work for the USO to rejuvenate Raye's career. But it was Day who suffered the most from the film's box-office failure. She had been campaigning to star in the film versions of
The Unsinkable Molly Brown
and
The Sound of Music
, but lost both roles, to Debbie Reynolds and Julie Andrews respectively. The latter film marked a resurgence in popularity for the film musical, but it came three years too late to help
Billy Rose's Jumbo
at the box office.
---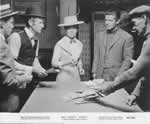 The presentation is letterboxed with an aspect ratio of about 2.2:1. The image compositions are constantly rectangular and benefit fully from being presented correctly on the screen. Without letterboxing, the entire visual impact of the movie would be lost, and it would also be difficult to make out the pachyderms. The stereo surround sound has many old fashioned separations and is good fun. There is a mild softness in the dialogue track but its effect is not significant. Side three runs under a half hour but is in CLV. The picture is consistently sharp and the flesh tones always look accurate. With the letterboxing in place, the movie is much more bearable on home video than it is in a theater. For example, the anticlimactic musical finale, which has too great an emphasis on clowns to come at the end, is easier to sit through or avoid in the home environment.
The musical, revolving around a near-bankrupt circus, contains some top level Rodgers and Hart numbers. The spectacle, in all of its letterboxed glory, is enlivening, and the movie leaps comfortably from circus acts to songs to what plot there is. The performers are also a joy. Jimmy Durante and Martha Raye can clown quite effectively without any makeup at all. Doris Day is an ideal vocalist for the songs of Rodgers and Hart. Last but not least there is Stephen Boyd, whose presence is such an embarrassment (the opposite of an ideal vocalist for the R & H songs, not that he's singing, but he still has to do the lead-ins) that it becomes pleasurable watching how bad and elephantine he can be. A good actor, in such a wishy-washy part, would never have stood out so well behind Durante.
---
OK circus picture, at best during Rodgers and Hart songs, well-staged by Busby Berkeley. Durante (who had starred in the 1935 Broadway production) and Raye are marvelous. Songs include "
The Most Beautiful Girl in the World
," "
My Romance
," "
This Can't Be Love.
" Also known as JUMBO. Filmed in Panavision
Leonard Maltin Review: 3.0 stars out of 4
33" nowrap>
On TV
Tue Oct 26 08:30AM on Turner Classic Movies
Discography
Film Soundtrack