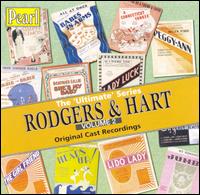 Soon Lyrics from Mississippi
Down by the River Lyrics from Mississippi - Bing Crosby
It's Easy to Remember Lyrics Lyrics from Mississippi - Bing Crosby
On Your Toes/The Heart Is Quicker Than the Eye {On Your Toes} - Adam Carroll
On Your Toes {On Your Toes} - Savoy Hotel Orpheans
Quiet Night/There's a Small Hotel/It's Got to Be Love/On Your Toes/The - Savoy Hotel Orpheans
Glad to Be Unhappy {On Your Toes} - Adam Carroll
There's a Small Hotel Lyrics{On Your Toes} - Savoy Hotel Orpheans
There's a Small Hotel/It's Got to Be Love {On Your Toes} - Adam Carroll
Babes in Arms/I Wish I Were in Love Again {Babes in Arms} - Adam Carroll
Johnny One Note Lyrics {Babes in Arms} - Ruby Newman
All at Once {Babes in Arms} - Adam Carroll
Where or When {Babes in Arms} - Ray Heatherton
My Funny Valentine Lyrics {Babes in Arms} - Adam Carroll
I Wish I Were in Love Again {Babes in Arms} - Judy Garland
I Married an Angel {I Married an Angel} - Nelson Eddy
At the Roxy Music Hall {I Married an Angel} - Audrey Christie
Little Work-A-Day World {I Married an Angel} - Nelson Eddy
Spring Is Here {I Married an Angel} - Nelson Eddy
How to Win Friends and Influence People {I Married an Angel} - Audrey Christie
I'll Tell the Man in the Street {I Married an Angel} - Nelson Eddy
You're Nearer {Too Many Girls} - Frances Langford
Label: Pearl
Original Release Date: September 25, 2001
Note
: Once again Pear record made another mistake! the song "Little Work-A-Day World" was NOT written by Rodgers & Hart. Well actually is not an error but rather a sort of
misunderstanding
: Little Work-a-Day World is just a
reworked
version of
Did You Ever Get Stung
with new lyrics written by lyricists Bob Wright and Chet Forrest and music by Richard Rodgers.
Ultimate Rodgers and Hart, Vol. 2 features a number of well-known vocalists from the early to mid-20th century performing Rodgers and Hart favorites. Some of the more noteworthy performances include an album-opening trilogy by Bing Crosby and the Georgie Stoll Orchestra, Judy Garland's performance of
"I Wish I Were in Love Again
," and a number of collaborations between Edgar Fairchild and Adam Carroll. Other performers include Jack Whiting, Ruby Newman, Nelson Eddy, and Frances Langford. It's best to start with the
first volume
in this series of albums first, but if you've given that a listen and are still looking for more, this album is recommended.