Lyrics by
Lorenz Hart
Music by Richard Rodgers
Produced by Alex A. Aarons and Vinton Freedley
Book by Owen Davis, adapted from his play
Shothun Wedding
Directed by Alexander Leftwich
Choreoghraphy Bobby Connolly.
Starring: Lillian Taiz and Glenn Hunter, included Inez Courtney, John Hundley, Joyce Barbour, and Charles Ruggles.
It ran for 104 performances.
Settings by John Wenger.
Costumes by Kiviette.
Betty (Lillian Taiz) thinks she loves Stacey (John Hundley), but when their elopement is foiled by her father she realizes that it was Terry (Glenn Hunter) she was really meant for . This is bad news for her sister Mary Jane (Inez Courtney), who also loves Terry; but it all works out happily in the end.



Post script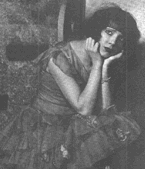 During rehearsals Larry and Dick ran into a problem: Glenn Hunter,who had made his name in the stage and screen versions of the KaUfman-Connelly success Merton of the Movies, couldn't carry a tune. The result of this anomaly was that the show's best numbers - and they included With a Song in My Heart - had to he given to Taiz and her unsuccessful lover, Hundley.
To accommodate Hunter's lack of voice, yet another song, Yours Sincerely was constructed with long verses so that he could talk it as a letter writing about how much he loves Taiz; she in turn would "repply" that she is in love with Terry and intends to use Hunter's charming endearments to tell him so.
The show's title song, by the way, is not the well-known ballad recorded by Frank Sinatra and many others. It's a flighty, upbeat tune with an undistinguished lyric and remarkable only for one thing: it is one of the few istances of Rodgers and Hart writing two completely unconnected songs withb the same title.