Lyrics by
Lorenz Hart
Music by Richard Rodgers
Produced by George Abbot
Book by George Milton Jr.
Directed by George Abbot
Choreoghraphy Robert Alton
Starring: Marcy Westcott, Diosa Costello and
Desi Arnaz
It ran for 249 performances.
33" nowrap>
Plot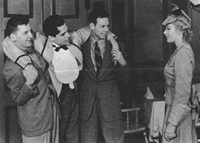 Eddie Brachen, left and Hal LeRoy right, support Desi Arnaz for Marcy Westcott
Mr. Casey's daughter Connie wants to go to the Pottawatomie college and he sends without her knowledge four football players as her bodyguards. The college is in financial trouble, so her bodyguards use their salary for the college. The football players join the college team, and so the team becomes one of the best. One of the football players, Clint, falls in love with Connie, but when she discovers, that he is her bodyguard she decides to go back to the East, her bodyguards follow her, so the football team is very weak for the game next day.







Discography
Studio Cast