Lyrics by
Lorenz Hart
Music by
Richard Rodgers
Produced by Dwight Deere Wiman
Book by Richar Rodgers, Lorenz Hart & George Abbott
Directed by Worthington Miner (George Abbott unaccredited)
Choreoghraphy George Balachine
Starring: Ray Bolger, Luella Gear, Tamara Geva and Monty Woolley
It ran for 315 performances.
Junior Donal, an ex-vaudevillian now teaching music at Knickerbocker University, a WPA exention in New York, enlists to help of patroness Peggy Portefield to persuade Sergei Alexandrovich, the director of the Russian Ballet, to stage a friend's jazzy "Slaughter on Tenth Avenue" ballet. While he may dream of sharing the pleasure of a small hotel with girlfriend Frankie Frayne, Junior becomes involved with the company's prima ballerina, Vera Barnova, and even takes over the male lead in "Slaughter". This so enrages Vera'a lover and regular dancing partner that he hires two thugs to kill Junior while he is performing on stage. To avoid being a target Junior keeps dancing even after the ballet is over, then - once the gunmen have been arrested - falls exhausted to the floor.
Overview
Richard Rodgers and Lorenz Hart had originally written the musical as a movie vehicle for Fred Astaire, but the dancer turned it down because he was afraid his public would not accept him without his trademark attire of top hat, white tie and tails. The team then rewrote the script as a stage musical and Lee Shubert took an option on it with Ray Bolger set for the male lead. When Shubert lost interest, the rights were picked up by Dwight Deere Wiman (it was the first of five Rodgers and Hart shows he would produce) , with George Abbott joining the project as co-author and director. Production delays, however, prompted Abbott to withdraw as director, though he did return to restage the musical after its poorly-received Boston opening. Originally, Marilyn Miller and Gregory Ratoff were sought for the roles that went to Miss Geva and Mr. Woolley.
There have been two revivals of On Your Toes on Broadway In 1954, Abbott and Balanchine put together a production starring Bobby Van, Vera Zorina (she had appeared in the role of the ballerina in London and in the movie version) , and Elaine Stritch (who played Peggy and sang the interpolated "You Took Advantage of Me"). The general verdict was that the musical was hopelessly dated and it remained only two months.
Twenty-nine years later, however, again staged by Abbott, it succeeded so well that it bested the original Broadway run, Natalia Makarova of the American Ballet Theatre made an impressive Main Stem debut in the show. She was replaced during the engagement by ballerinas Galina Panova and Valentina Kozlova, and Dina Merrill was replaced by Kitty Carlisle, The 1939 movie, with Eddie Albert as Junior, used music only as background and for the ballets.
33" nowrap>
On SLAUGHTER ON TENTH AVENUE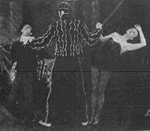 Ray Bolger, George Church and Tamara Geva dancing Slaughter on Tenth Avenue
AT THE BALLET: A LOOK AT SLAUGHTER ON TENTH AVENUE by Bert Fink
The shows of Richard Rodgers (1902-79) and
Lorenz Hart
(1895-1943) epitomized the wit and sophistication of Broadway musical comedy in its heyday -- approximately 1930 to 1940. While conceived primarily as sheer entertainment, the Rodgers & Hart musical comedies quickly developed a reputation for innovation as well. Their 1936 musical comedy ON YOUR TOES, a lighthearted look at the world of dance, was no exception in its innovative mark: ON YOUR TOES was the first Broadway musical to use dance as a direct proponent of the plot. Here, for the first time, choreography became a means, and not merely an end, to the storyline's narrative.
Since dance was essential to the story, a strong choreographer was needed. Rodgers, Hart and their director and co-author George Abbott took the radical step of hiring a renowned talent from the world of classical ballet -- the Russian-born co-founder of the New York City Ballet, George Balanchine -- to create their dances. "He didn't speak much English," recalled Rodgers years later, "but he spoke an awful lot of ballet."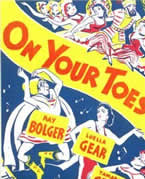 The jewel in this musical comedy's crown is the climactic Act II ballet Slaughter on Tenth Avenue. Ostensibly written by one of the characters in the show (a WPA-funded struggling composer), it is an American ballet in the jazz vernacular. In its storyline, a customer in a seedy Tenth Avenue strip joint falls in love with a stripper, is discovered with her after closing by the Big Boss and, in the violence that ensues, sees her killed by the Big Boss. Not merely a showpiece, however, "Slaughter" is linked directly to the musical through a plot device, thus forwarding two lines of narrative at once. A dancer jealous of the ballet's leading man has hired two hit men to kill him during a performance of "Slaughter"; the plot is uncovered and our hero alerted but, until help arrives, he is forced to keep dancing center stage and out of harm's way.
"Slaughter" is unique in the annals of American musical comedy; a recognized ballet in its own right, it has entered the repertory of several leading companies, particularly New York City Ballet. As an orchestral work, Rodgers' superlative score for the ballet has become a staple with many symphony and pops orchestras. Finally, while the musical has served to introduce many theatre companies to the rigor of ballet, in 1990 the reverse was true, when the world-famous Stuttgart Ballet of Germany premiered ON YOUR TOES as the first musical in its repertoire


33" nowrap>
Rodgers On "On Your Toes"
"I had heard that Pandro Berman, the head of RKO, was looking for a story for a new Fred Astaire picture. Hart and I sat down and worked for a couple of hours one afternoon finishing up with a two-page synopsis telling the tale of a hoofer mixed up with the Russian Ballet. We took it around to Berman, who liked it. He took it around to his associates, who rejected it. Astaire at that point in his career was a pretty chic fellow who usually wore white ties and tails, and the producers felt that there was no chance in our script for him to appear that way. I was as simple as that. It didn't matter much, we figured, since we had invested so little time.
A few weeks later in New York we ran into Lee Shubert and [his show coordinator] Harry Kaufman. The thing that had been keeping them up nights was the unhappy business of finding a vehicle for Ray Bolger. They thought he was star material. We, too, thought he was star material. Standing on the corner of Forty-fifth Street and Broadway we told Mr. Shubert and Mr. Kaufman the story of the hoofer and the Russian Ballet. They liked it, and this time there were no associates to be consulted. We concluded the deal standing there on the corner.
When the first draft of the book was finished we surveyed our work and found it was not so good. Anyway, be it said to our everlasting credit, we took the step of our own volition, without coaching from the managerial sidelines, and called in George Abbott. That was a lucky day. George straightened out the story line and kept it straight through the turmoil of production and the upheaval of out-of-town tryouts till the show emerged on the stage of the Imperial Theatre. The name would be "On Your Toes.'"
Richard Rodgers from: Words Without Music NEW YORK TIMES, June 14, 1936
Discography
On Your Toes original Broadway Revival 1954
On Your Toes London Studio Cast