Lyrics by
Lorenz Hart
Music by Richard Rodgers
Produced by Howard Dietz and Harry Rapf for MGM
Directed by Edmund Goulding, Russel Mack, Richard Boleslawsky and Allan Dwan
Starring: Starring Jimmy Durante, included Laurel and Hardy, Charles Butterworth and Polly Moran.
Screenplay by Howard Dietz and Arthur Freed
Choreography by Seymour Felix, George Hale and Dave Gould
Early Title:
Hollywood Revue of 1933
Jimmy Durante is jungle star Schnarzan the Conqueror, but the public is tiring of his fake lions. So when Baron Munchausen comes to town with real man-eating lions, Durante throws a big party with so that he might use the lions in his next movie. His film rival sneaks into the party to buy the lions before Durante.
Also figuring into the plot are the members of the Klemp family (Charles Butterworth, Polly Moran and June Clyde), who are filthy rich and thus quite attractive to both Schnarzan and Liondora; poor-but-honest Eddie Quillan, who romances the Klemp's daughter; and Schnarzan's ex-girlfriend Lupe Velez, who shows up at the party in an astonishingly revealing gown for the express purpose of making trouble. In an amusing animated sequence courtesy of Walt Disney, Mickey Mouse introduces the Technicolor musical exploits of "The Hot Chocolate Soldiers." Shortly before the end, Stan Laurel and Oliver Hardy make a welcome appearance as a pair of lion-farm owners who wish to collect a debt from Baron Munchhausen. This segues into the classic egg-breaking sequence involving Stan, Ollie, and Lupe Velez. Now we've reached the 65 minute mark, with no logical ending in sight. Director Allan Dwan, brought into the project at the last minute, took a look at the existing footage and declared "It's a nightmare!" Inspired, Dwan directed a closing sequence which suggested that the whole plot had been dreamed by Jimmy Durante; Durante is wakened from his slumbers by his wife--played by Mrs. Jimmy Durante. Hollywood Party makes no sense at all, but it's a must for comedy lovers and 1930s film buffs.
Don't miss that
opening number
, written by Rodgers and Hart and performed by Frances Williams and a chorus of barely dressed telephone operators; and keep an eye peeled for a lengthy un credited appearance by the Three Stooges.
---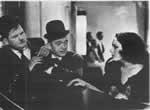 Stan Laurel (centre), Oliver Hardy (left) and Lupe Velez (right).
At a movie theater a preview of "Schnarzan the Conqueror" is shown, but the producer decides he needs real man-eating lions. He tells Jimmy Durante to entertain the Baron Munchausen with a party. Telephone operators sing "Hollywood Party" as guests get dressed for it. Oil millionaire Harvey Clemp (Charles Butterworth) arrives with his wife Henrietta (Polly Moran) and his daughter Linda (June Clyde). Robert Young announces the biggest Hollywood party ever and sends a drunk, who bothers him to the swimming pool. Chorus girls sing "Hello" to the Baron (Jack Pearl). Trying to gain access to money, a Greek duke (George Givot) makes advances to Henrietta and kisses her while her husband comments on his technique. However, Harvey is quickly flipped by Schnarzan's co-star (Lupe Velez), and he decides loyalty is better. Bob (Eddie Quinlan) and Linda sing "I've Had My Moments."
A professor takes the three stooges for Neanderthals. Durante sings "Reincarnation," dreaming he was a butterfly, Adam, and Paul Revere's horse. Harvey outbids the producer for the Baron's lions. Durante finds Mickey Mouse, who introduces a color cartoon called "The Hot Chocolate Soldiers" about a candy and dessert war; when the war is won, the sun melts the chocolate soldiers. Durante says he will go Don Juan one better by being Don Two.
Oliver Hardy and Stan Laurel bring a check from the Baron they could not cash in order to get their lions back. They keep ringing the doorbell until they get in. Oliver calls loudly for the Baron. Henrietta plays the piano and sings a reprise of "Moments" to Durante. At the bar Lupe Velez is refused any more drinks and cracks eggs with Oliver and Stan. When men come after them, Oliver and Stan run away and let loose the lions. Durante tells Henrietta he needs lions to fight as Schnarzan, and he is soon wrestling with one. During the reprise of "Hollywood Party" Durante is dreaming. His wife wakes him up to go to a party.
This satire of Hollywood is designed to be entertaining, and the comedy and music are mildly amusing, giving audiences a dream-like diversion from daily living.

Copyright © 1999 by Sanderson Beck
---
Plunked down right in the middle of this MGM musical revue is a Disney cartoon about some chocolate soldiers who melt in the sun; the cartoon is introduced by Mickey Mouse, an uninvited guest at the Hollywood Party.
Who were the hosts? The picture doesn't carry producer or director credits; the entire extravaganza is hit-or-miss casual, as if the brass at MGM didn't want to admit having committed themselves to make the thing, and the big MGM stars never show up.
Instead, you get Jimmy Durante in a Tarzan takeoff and singing a song about reincarnation, as well as Polly Moran as an oil tycoon's wife, Charles Butterworth and Ted Healy, and June Clyde, Jack Pearl, and Lupe Velez, who join Laurel & Hardy in an egg-breaking routine. Some fairly funny moments, and a pleasant score.
The writing was probably by Howard Dietz and Arthur Kober, the directing by Richard Boleslawski, Allan Dwan, and Roy Rowland.
Pauline Kael
---

Jimmy Durante, playing a character called Schnarzan, had a fairly amusing scene in Hollywood Party (MGM) doing battle with a lion; and Walt Disney supplied a Mickey Mouse cartoon (in colour) which helped take one's mind off the "entertainment" on offer. But the story thought up by publicity man Howard Dietz and Arthur Kober (who also scripted it) about an elaborate Hollywood party thrown by Durante, just wouldn't play.
from The Hollywood Musical by Clive Hirschhorn
---
Musical comedy hodgepodge built around screen star Durante throwing a gala party. Romantic subplot is for the birds, but Stan and Ollie battling fiery Velez, Durante as Schnarzan, befuddled Butterworth and opening title tune make it worthwhile. Richard Boleslawski, Allan Dwan, Roy Rowland directed various scenes without credit; TV print runs 63 minutes, and is missing appearance by Mickey Mouse and color Disney cartoon HOT CHOCOLATE SOLDIERS.
Leonard Maltin Review: 2.5 stars out of 4
33" nowrap>
... about Prayer
The remarkable saga of Prayer epitomizes what Rodgers & Hart went through when they were under contract to M.G.M.
In its first version the melody that became Blue Moon was intended for Jean Harlow to sing in Hollywood Party.
Neither Miss Harlow nor Prayer appeared in Hollywood Party.
In its second life the "Prayer/Blue Moon" tune was given a new lyrics and became the title song of the 1934 M.G.M film Manhattan Melodrama, which starred Clark Gable, William Powell and Myrna Loy, and was the movie that John Dillinger had been watching when he was gunned down outside the Biograph Theatre In Chicago.
The song was also know as "It's Just That Kind Of Play", but was cut from the film before it was ready for release.
Manhattan Melodrama Was also responsible of the third setting of the "Prayer/Blue Moon" tune. Under its new title "The Bad In Every Man" It was sung by Shirley Ross in the film.
The fourth lyric setting of the melody came about when Jack Robbins, Head of the M.G.M.'s publishing company, liked the tune and said he would promote it if Hart would write a more commercial lyrics. The result was Blue Moon.